Collaboration of Aphasia Trialists
Collaboration of Aphasia Trialists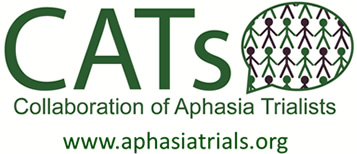 The Trustees of the Tavistock Trust for Aphasia are delighted to announce a 3 year grant has been awarded to The Collaboration of Aphasia Trialists to fund the 2nd Phase of its development.
For a long time The Tavistock Trust for Aphasia has been aware of the importance of continually advancing standards of research within the aphasia world. We are thrilled to be funding the 2nd phase of CATs. We are particularly excited that this means that the Collaboration can expand its remit; which means it can include research relating to aphasia that is not only stroke related. It will also be able to include aphasia research from the United States and members of the Commonwealth, and beyond. We are excited to see how the next three years evolve for the Collaboration of Aphasia Trialists.
The Collaboration of Aphasia Trialists is an international, multidisciplinary network that currently comprises 150 members from across 26 countries. Established in 2013 with the support of the EU Cooperation in Science and Technology the membership includes experts in neurology, stroke rehabilitation, linguistics, neuropsychology, speech and language therapy, neuroscience, anthropology, audiology and statistics. Working in synergy across international boundaries, languages and disciplines this dynamic group support the development of high quality aphasia research which addresses the needs of people with aphasia, their families, health and social care providers and voluntary groups.
The 3 year grant provided by The Tavistock Trust for Aphasia will permit the early achievements of the Collaboration to be further developed, the network to extend its reach to members beyond the EU and in turn additional gains in aphasia research to be realised. With more emphasis on project work, grant development and capacity building alongside an even broader international reach, the second phase of the Collaboration will rely more on technology to support Collaboration communications. The Collaboration's high quality interactive website (www.aphasiatrials.org) will continue to support the activities of members.
"The Tavistock Trust for Aphasia funding offers us an exciting opportunity to further develop our multidisciplinary expertise in aphasia research and to develop an even broader international reach to undertake ambitious aphasia research activities. The new funding provided by the TTA will permit the early achievements of our research Collaboration to be further developed, the network to extend its reach to members beyond the EU and in turn additional gains in aphasia research to be realised." Professor Marian Brady
For further information about the Collaboration please contact: CATs@gcu.ac.uk
Twitter: @CATs_aphasia