Collaboration of Aphasia Trialists (CATs)
Collaboration of Aphasia Trialists (CATs)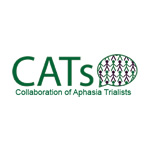 Having funded phase II the Trustees of The Tavistock Trust for Aphasia are delighted to announce that they will be funding the Collaboration of Aphasia Trialists (CATs) for a further  two years, until April 2026.
The Collaboration of Aphasia Trialist (CATs) has been funded by The Tavistock Trust for Aphasia since 2017, during which time it has grown to include more than 170 aphasia research members across 33 countries. Together the researchers are sharing:
an aphasia research database
best practice for the adaptation of aphasia assessment tools into non-English languages
resources to support access for people with aphasia into research
expertise with Early Stage Researchers and
best practice for the conduct and reporting of high quality aphasia research.
Over the next three years the Collaboration will continue to develop their network to support more aphasia researchers internationally and ensure gains in aphasia research are realised in benefits for people with aphasia, their families and the healthcare professionals that work with them.
"We are delighted to hear that The Tavistock Trust for Aphasia is extending their support for the Collaboration of Aphasia Trialists until 2026. We are looking forward to maintaining our ambitious plans and supporting more aphasia researchers, across more countries, to undertake more aphasia research which delivers more benefit to people with aphasia." Professor Marian Brady