The Robin Tavistock Award
THE ROBIN TAVISTOCK AWARD 2021
GILL JACKSON MBE and DYSCOVER
The Trustees are delighted to announce that the joint recipients of The Robin Tavistock Award 2021 are Gill Jackson MBE and Dyscover.
The Robin Tavistock Award is presented annually to a person, or group, who it is felt, has made a significant contribution in the field of aphasia. This contribution could be for helping people with aphasia, for personally overcoming aphasia, for crucial research work, or for making a financial commitment to aphasia; essentially this award will go to someone or a group who is inspirational and who has made a major difference.  This is only the second time a joint Award has been given.
Whilst working as a speech and language therapist in the NHS, Gill Jackson recognised the need for long term support for people with aphasia. In 1994, she set up Dyscover which has grown over the years and now become a beacon of excellence in the aphasia world. It is almost impossible to pinpoint what makes Dyscover so special, and so respected nationally and, increasingly, internationally, because there are so many qualities that stand out.  Critically, both Gill and Dyscover always put the person with aphasia at the heart of all that they do, combining gold standard level of professionalism with compassion, kindness and practical help.
Above all, Dyscover is a member led charity, that fulfils its mission 'to help and empower people with aphasia, and all who support them, to manage their communication disability and re-engage with life'.  Significantly, all their groups and programmes are led or overseen by Speech and Language Therapists, supported by trained volunteers and this explains why Dyscover is synonymous with the word excellence.
Dyscover has always prided itself in being responsive to changing needs. It has been no surprise therefore, that it has been able to adapt its services during this pandemic, quickly moving its support and programmes online.
None of the above would have been possible without Gill's exceptional leadership.  Her incisive strategic mind, rooted in kindness and integrity, has shaped how Dyscover developed.  Everything Gill does is done with enthusiasm, sensitivity and generosity.  Gill is also known to be self-effacing, never putting herself centre stage. It is, perhaps, this uncommon quality that has enabled her to do that which is so rare, and that is successfully hand over the leadership, to the very able Rosemary Townsend, thus ensuring a bright future for Dyscover and those whom it serves.  They are fortunate indeed that she remains as President and that she continues to support Dyscover's remarkable work, both as a volunteer and mentor.
The Tavistock Trust for Aphasia's criteria for this Award are 'inspirational' and 'making a significant difference' and this fits both Gill Jackson and Dyscover perfectly.
The presentation will be made later in the year – details to be confirmed.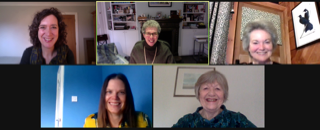 From left to right, top row: Rosemary Townsend, Dyscover; Nicole Campbell, TTA; Henrietta Bedford, TTA; bottom row: Jo Chitty, administrator TTA, Gill Jackson MBE