NETA
As a direct result of the Centre, a charity called the Comm-Unity, NETA's Aphasia Support Centre (North East Trust for Aphasia) was formed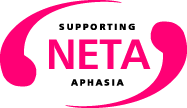 The majority of trustees are either people with aphasia or their carers. NETA aims to help people with aphasia and their carers get the support they need and want. Currently they fund a Support Centre in Newcastle, which runs one day per week, helping people to move forward with their aphasia.
Some of their short-term objectives are:
Raising the profile of people with aphasia
Seeking continued funding for the aphasia clinic at the University
Supporting specific projects for people with aphasia and their carers, such as the Support Centre
Developing an information website for people with aphasia
To develop a befriending scheme, where people with aphasia can be visited by volunteers
For further information please visit the website at www.neta.org.uk.